Product info
Primary Benefits
---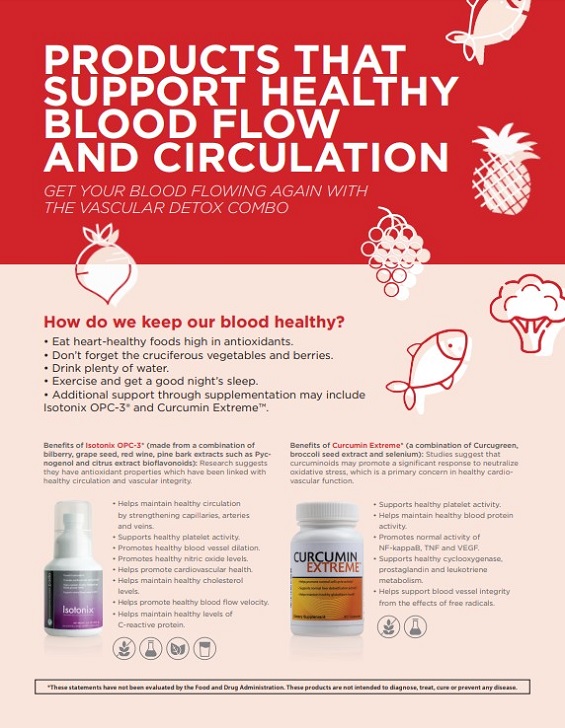 Helps maintain healthy circulation by strengthening capillaries, arteries and veins
Supports healthy blood vessel dilation
Helps support cardiovascular health
Supports healthy nitric oxide levels
Supports healthy blood glucose levels
Supports healthy platelet activity
Helps maintain healthy blood protein activity.
Helps maintain healthy levels of C-reactive protein
Promotes normal activity of NF-kappaB, TNF and VGEF
Supports healthy cyclooxygenase, prostaglandin and leukotriene metabolism
Helps promote healthy blood flow viscosity
Helps support blood vessel integrity from the effects of free radicals
What Makes These Products Unique?
---
The combination of OPCs from Pycnogenol®, found in Isotonix OPC-3®, and curcuminoids, found in Curcumin Extreme™, may provide a useful regimen for those looking to take proactive steps toward supporting their vascular health or helping to maintain healthy levels of cholesterol and normal blood pressure with natural aging.
Both have been shown to have powerful effects on blood cell activity and vascular health- metabolic function such as blood flow and promotion of vascular integrity and lymphatic vessel support. The dynamic combination makes them ideal choices for those looking to support their cardiovascular health or achieve various lifestyle goals- be it fitness and/or healthy aging.
THE BODY
OPC's (oligomeric proanthocyanidins) are naturally occurring plant compounds found in a variety of foods including red grapes, apples, cranberries and pine bark extract. Research suggests they have antioxidant properties which have been linked with healthy circulation and vascular integrity.
Pycnogenol, one of the richest sources of OPCs available today, has been clinically studied for its ability to support healthy cardiovascular function for over 40 years. Studies suggest that taking Pycnogenol regularly may help promote cardiovascular such as artery flexibility (which helps maintain normal blood pressure levels), as well as promote healthy blood flow and oxygen within the cell, which may promote healthy endothelial function within the arteries and veins.
Curcuminoids are another natural compound that may be beneficial for supporting healthy heart function. These phytonutrients are found primarily in turmeric root but can also be found in ginger root, oregano leaf and cinnamon bark. Curcuminoids have been shown to have properties that assist in maintaining a balanced response to metabolic changes due to aging, diet or daily activities. Curcuminoids can support endothelial cells which line the walls of your arteries and promote lipid levels within healthy ranges. Studies suggest that curcuminoids may also help promote the body's response to neutralize oxidative stress which is a primary target in cardiovascular health and vascular integrity.
OPCs work by supporting nitric oxide production which helps to promote blood circulation and support a healthy metabolic environment prone to ample blood flow, while also Curcuminoids are found in turmeric root and have been shown to provide various benefits to the cardiovascular system. In addition to promoting healthy blood cell aggregation, they may also help support lipid metabolism, healthy platelet activity, and endothelial function.
These compounds have also been studied for their potential benefits on lymphatic drainage. Lymphatic vessels are responsible for carrying excess fluid away from tissues throughout the body and maintaining a proper balance between different parts of the body. These two compounds work together by filtering toxins from the body through both the lymphatic system and the organs of detoxification. This promotes healthy filtration throughout the vascular system which is particularly important with age as our bodies become less efficient at removing these wastes from our bodies on their own. By combining these two powerful antioxidants you can support your overall health while promoting healthy circulation throughout your body; this supports oxygenation and healthy cardiovascular system.
In addition to being beneficial for vascular health, both OPCs and curcuminoids have other potential benefits such as neutralizing oxidative stress, supporting healthy metabolism and promoting immune function.
Ingredients
---
Grape Seed Extract (25 mg)
Grape seed extract is typically extracted from the seeds of red grapes, which have a high content of compounds known as oligomeric proanthocyanidins (OPCs). Grape seed extract is extremely rich in polyphenols, compounds with high antioxidant activity. Grape seed extract has been found to help maintain healthy cholesterol levels.

Red Wine Extract (25 mg)
Red wine extract is a powerful antioxidant. This extract is found in grape vines, roots, seeds and stalks, with the highest concentration in the skins. The antioxidant properties of red wine extract contribute to maintaining healthy circulation by strengthening capillaries, arteries and veins, and supporting overall cardiovascular health.

In the late 1990s, scientists concluded that the protective properties of red wine have helped the French maintain cardiovascular health for years and subsequent scientific studies have further shown that the OPCs found in red wine are particularly beneficial for helping to maintain a healthy heart and blood vessels.

Pine Bark Extract (Pycnogenol®) (25 mg)
Pycnogenol® is a natural plant extract from the bark of the maritime pine tree, which grows exclusively along the coast of southwest France in Les Landes de Gascogne. This unspoiled and natural forest environment is the unique source of pine bark. Pycnogenol® is a well-researched ingredient in the natural marketplace. Published findings have demonstrated Pycnogenol's® wide array of beneficial effects on the body. Pine bark extract is an all-natural combination of procyanidins, bioflavonoids and organic acids.

The extract has three basic properties — it is a powerful antioxidant, selectively binds to collagen and elastin, and supports the normal production of endothelial nitric oxide, which helps maintain the normal dilation of blood vessels.

As one of the most potent natural scavengers of free radicals, Pycnogenol® combats free radicals before they cause oxidative stress to vital organs. Its super-antioxidant capabilities help support healthy blood platelet activity, support healthy blood glucose levels, helps support the body during mild menstrual cramping and abdominal pain, maintain joint flexibility, help maintain cardiovascular health, support healthy sperm quality, maintain healthy cholesterol levels and support a healthy complexion.

† Pycnogenol® is the registered trademark of Horphag Research, Ltd., and is protected by U.S. Patents #5,720,956, #6,372,266 and pending applications and international patents.

Bilberry Extract (25 mg)
Bilberry extract is derived from the leaves and berry-like fruit of a common European shrub closely related to the blueberry. Extracts of the ripe berry are known to contain flavonoid pigments known as anthocyanins, which are powerful antioxidants. Scientific studies confirm that bilberry extract supports healthy vision and venous circulation. Bilberry extract helps maintain healthy circulation by strengthening capillaries, arteries and veins.

Citrus Extract (Bioflavonoids) (25 mg)
Bioflavonoids are antioxidants found in certain plants that act as light filters. They have been found to help maintain cardiovascular health and help maintain healthy circulation by strengthening capillaries, arteries and veins.

Curcugreen™† (Curcuma longa rhizome standardized to 88% curcuminoids‡ and essential oils): 400 mg
Curcugreen™† is a branded curcumin ingredient made from turmeric extract which contains a proprietary blend of curcuminoids and turmeric oils. Though most curcumins have poor bioavailability, Curcugreen offers a high level of oral bioavailability in order for the body to reap the full spectrum of health benefits curcumin can provide.*

Curcumin is the main active ingredient in turmeric. Turmeric, used historically for health and cosmetic purposes, as well as a fabric dye and a culinary spice, comes from the Curcuma longa plant. Curcumin, in and of itself, has also been used to support health and for cooking. Presently the science community has shown an interest in learning more about curcumin and its possible benefits.*

In studies, curcumin has shown evidence of being able to support immune, cognitive and liver health. It also appears to boast antioxidant properties and to help protect the body from free radicals. Curcumin has been shown to support the production of enzymes for glutathione and its synthesis, as well as metabolism.2 Glutathione is produced naturally by the body and has antioxidant properties.*

In addition to its immune-supporting activity, curcumin has been shown to support normal Cyclooxygenase-2 (COX-2) and NF-kappaB (NF-kB) levels in the body through multiple mechanisms. NF-kB is a transcription factor, meaning that it functions to support the normal formation of a specific protein encoded by a gene – specifically the COX-2 gene.3*

Curcumin has been shown to help maintain neurological health and cognitive function. Curcumin may help by promoting healthy levels of amyloid-β protein (a protein fragment) in the brain. In recent studies, researchers have linked normal levels of amyloid-β protein to neurological and cognitive health, such as memory and mood. Another neuroprotective property of curcumin is its ability to promote normal levels of glutathione, superoxide dismutase (SOD) and catalase in the brain, which can help maintain the health of neurological tissues. SOD and catalase are enzymes that protect cells.*

Curcumin supports liver health and its functions. In studies, curcumin has shown to support the normal production of phase II detoxification enzymes in the liver. These detoxification enzymes promote the body's natural defense systems and function as powerful indirect antioxidants, helping to neutralize harmful heavy metals, toxins and pollutants. For example, curcumin's support of glutathione synthesis supports the detoxification function of glutathione transferase. Curcumin also promotes normal liver tissue. *

†Curcugreen™ is a trademark of Arjuna Natural Ltd.
‡Curcuminoids are compounds in the spice, turmeric. One of these compounds is curcumin, which is the main active ingredient.

Broccoli Seed Extract (4.5% Glucosinolates): 223 mg
The benefits of broccoli and other cruciferous vegetables are well known and supported. Broccoli seed extract is a powerful source of sulforaphane. Sulforaphane supports the normal production of phase II detoxification enzymes, which promotes the body's normal metabolism of chemicals and toxins. Sulforaphane also promotes the body's natural defense systems and functions as a powerful indirect antioxidant – meaning it supports the ability of antioxidants that directly protect the body from oxidative stress.*

Sulforaphane works to maintain healthy levels of glutathione. Known by scientists as the master antioxidant, glutathione is one of the body's key antioxidants, and serves as a protector from free radicals and other toxins. Glutathione is also capable of recycling other antioxidants, and supporting immune health and healthy detoxification among other things.*

Selenium (L-Selenomethionine): 100 mcg
L-Selenomethionine provides a bioavailable form of selenium. It uses the same active transport mechanism as for methionine, one of the 9 essential amino acids that can only be obtained from the diet, and this supports the efficiency of absorption of selenomethionine over inorganic forms of selenium. Selenium is an essential mineral that is important for the proper functioning of many body processes. This essential element is a required component of the selenoproteins, which includes those that are needed to convert thyroid hormones from the inactive to the active form, and several important antioxidants. As an antioxidant, it helps control free radicals and combat oxidative stress. Selenium is a required cofactor for glutathione peroxidase (neutralizes hydrogen peroxide) and studies show it may help to maintain normal levels of this antioxidant enzyme. In addition to promoting healthy levels of glutathione, selenium also promotes neurological health and a strong healthy immune system.*
FAQs
---
What sets Isotonix OPC-3® apart from other bioflavonoid products?
Isotonix OPC-3 offers scientifically supported OPCs, found to be the most powerful antioxidants for human health. In addition to being powerful antioxidants, these individual OPCs have been shown to provide a myriad of specific health benefits. This science-driven selection of OPCs is unique to OPC-3, as is the Isotonix delivery system, which enables rapid and highly efficient absorption of the OPCs. The potent nutrients, in combination with the highly effective delivery system, makes OPC-3 the most powerful free radical scavenging product available.*

Are there any warnings I should be aware of when taking Isotonix OPC-3®?
If you are currently using prescription drugs, have an ongoing medical condition, or if you are pregnant or breastfeeding, consult your healthcare provider before using this product.

Are any side effects associated with Curcumin Extreme™?
Side effects are uncommon and are generally limited to mild stomach distress. If you have any concerns, you should speak to your health provider.

Are there any warnings associated with taking Curcumin Extreme™?
If you are currently using warfarin (Coumadin®) or other antiplatelet/anticoagulant, you should not use this product. If you are using any other, prescription drugs or have an ongoing medical condition, consult your healthcare provider before using this product. Women who are pregnant or breastfeeding should not use this product.

Why should I take both Isotonix OPC-3 and Curcumin Extreme™?
Due to the multitude of environmental stressors that can cause oxidative stress, leading to multiple free radicals forming, we need a combination of powerful antioxidants to help protect all areas of our bodies. Curcumin Extreme andIsotonix OPC-3® contain important antioxidants with multiple benefits to the body. Oligomeric proanthocyanidins (OPCs) are bioflavonoids (complex organic plant compounds) found in fruits, vegetables and certain tree barks that provide exceptional nutritional benefits to the human body. Studies have shown OPCs to be more powerful than vitamin C and vitamin E in neutralizing free radicals.* Curcumin Extreme™ promotes overall cell integrity and maintenance of healthy glutathione levels; glutathione, one of the body's key antioxidants, supports two other powerful antioxidants, vitamins C and E.

What other Market America products work well with The Vascular Detox Combo?
Isotonix Bromelain Plus with its unique combination of bromelain, white willow bark and protease, nutraMetrix Isotonix Bromelain Plus promotes your body's immune system, helping support the body's normal ability to heal itself on a cellular and muscular level. Inside our bodies, certain cells normally detected by the immune system "disguise" themselves from the immune system using a protein layering as a shield. Thanks to its unique formula, nutraMetrix Isotonix Bromelain Plus helps support your body's ability to engage in "cellular house cleaning," breaking down that protein layer to support your immune system, offering superior cellular protection.

*You should always consult your physician before adding new supplements to your daily routine.
Science
---
Kim DC, Ku SK, Bae JS. BMB Rep. 2012 Apr;45(4):221-6. doi: 10.5483/bmbrep.2012.45.4.221. PMID: 22531131.
Keihanian F, Saeidinia A, Bagheri RK, Johnston TP, Sahebkar A. J Cell Physiol. 2018 Jun;233(6):4497-4511. doi: 10.1002/jcp.26249. Epub 2017 Dec 26. PMID: 29052850.
Kim DC, Ku SK, Bae JS. BMB Rep. 2012 Apr;45(4):221-6. doi: 10.5483/bmbrep.2012.45.4.221. PMID: 22531131.
Santos-Parker JR, Strahler TR, Bassett CJ, Bispham NZ, Chonchol MB, Seals DR. Aging (Albany NY). 2017 Jan 3;9(1):187-208. doi: 10.18632/aging.101149. PMID: 28070018; PMCID: PMC5310664.
Freedman, J., et al. Circulation 103:2792-8, 2001.
Watson, R Evidence-Based Integrative Medicine 1: 27-32, 2003.
Araghi-Niknam M, Hosseini S, Larson D, Rohdewald P, Watson RR. Integ Med 2 (2/3): 73-77, 1999.
Enseleit F, Sudano I, Wolfrum M, Périat D, Winnik S, Krasniqi N, Matter CM, Neidhart M, Ruschitzka F, Noll G 2010Santos-Parker JR, et al. Aging (Albany NY). 2017 Jan 3;9(1):187-208.
Bundy R, et al. J Altern Complement Med. 2004 Dec;10(6):1015-8.
Panahi Y, et al. Phytother Res. 2014 Nov;28(11):1625-31.
Ghasemi F, et al. Neurotox Res.2019 Jul;36(1):12-26.
Di Meo F, et al. 2019 Oct 11;11(10):2426.
Braidy N, et al. FEBS J. 2010 Jan;277(2):368-82.
Bhutani MK, et al. Pharmacol Biochem Behav. 2009 Mar;92(1):39-43.
Jiang H, et al. Prog Neuropsychopharmacol Biol Psychiatry. 2013 Dec 2;47:33-9.
Esmaily H, et al. Chin J Integr Med. 2015 May;21(5):332-8.
Cuomo J, et al. J Nat Prod. 2011 Apr 25;74(4):664-9.
Neurophenol white paper; Universite Laval, 2015.
Bensalem J, et al. J Nutr Sci. 2018 May 21;7:e19.
Bensalem J, et al. J Gerontol A Biol Sci Med Sci. 2019 Jun 18;74(7):996-1007.
Noguchi-Shinohara M, et al. PLoS ONE 9(5): e96013.
Zhang Q, et al. Nutr J. 2013 Jun 18;12:84.
Reviews
---
There are currently no reviews for this product.